I am currently curating and exhibiting in the NASTY WOMEN Memphis | WAR Paint! exhibition. The event was originally scheduled for September 4-November 1, 2020, at Crosstown Arts, in Memphis, Tennessee.
Due to Covid-19, the exhibit was modified to a virtual art exhibition & sale from Oct 1-Nov 6, 2020, at www.nastywomenwarpaint.com. I developed the website, brand, 3D gallery, and flip book.
This is the third exhibit as Memphis, TN representatives of NASTY WOMEN Global Art Exhibitions and Activism, that Danielle Sumler and I have curated with at least 50% of all sales from the exhibit benefiting Planned Parenthood of Tennessee and North Mississippi.
We opened at 6:00 pm on Thursday, October 1, 2020, and received rave reviews for our curation and the quality of our exhibited works. I am so very proud of Danielle, myself and the talented artists we are privileged to represent in this exhibit.
Here's one of my pieces in the exhibit, created after the passing of Hon. Ruth Bader Ginsburg.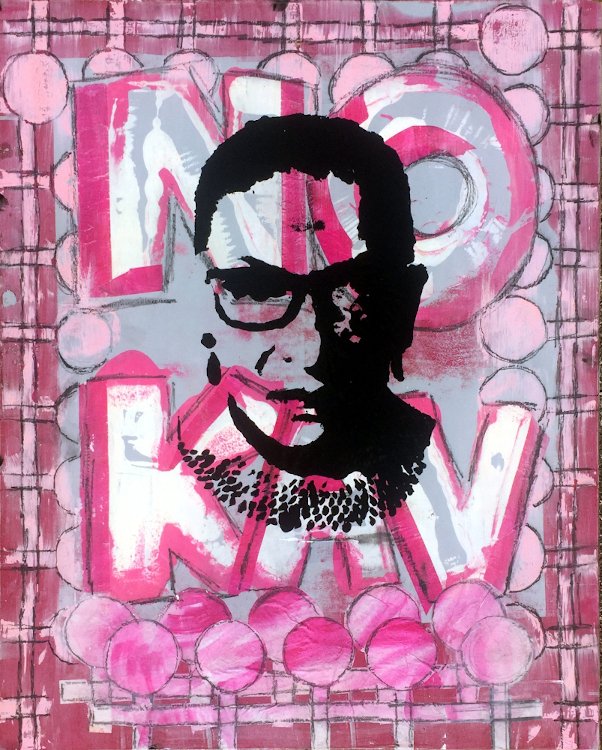 Ruthless
Year of Work: 2020
Size of Work: 16″ x 20″
Material/Medium: mixed media: oil, painted paper, and charcoal on hardboard